Hybrid inaugural lecture by Prof. Mona Motakef
-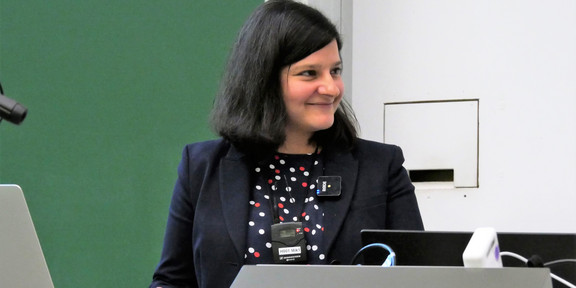 Geschlechterverhältnisse erforschen.
Prekarisierung – Anerkennung – Ungleichheit
Professor Nicole Burzan, Dean of the Department, welcomes Professor Mona Motakef to her inaugural lecture, which took place on 26 October 2021 in hybrid form as part of the colloquia of the Department of Social Sciences.
Professor Mona Motakef, Professor of Sociology of Gender Relations, delivered her inaugural lecture on the topic:
Geschlechterverhältnisse erforschen.
Prekarisierung – Anerkennung – Ungleichheit.
The starting point of her presentation was the precarization of the male breadwinner model: What kinds of changes are emerging with respect to gender inequalities and relations of recognition? What are the continuities? Referring to classical gender theories, she first presented her micro-sociological perspective on multiple gender relations. Using empirical cases based on couple and family interviews, she then presented inequalities in the relations recognition of precarious workers and diverse families. She discussed how recognition deficits can accumulate among mostly female caregivers and what it can mean for men when they cannot realize breadwinner masculinity because of their precarious employment. She went on to describe the hurdles that two-mother, multi-parent and trans* families face in their everyday family life and how they deal with them. Following her conclusion, she outlined the research perspectives she is pursuing at the department.
The hybrid event was attended by around 40 guests who were on site at the TU Dortmund University. Another 87 people followed the lecture via Zoom.
For detailed information on current topics in the sociology of gender relations, please visit the website of Sociology of Gender Relations.