The Förderpreis Lehrerausbildung Ruhr 2021
Committed female teaching graduates of the TU Dortmund receive awards
-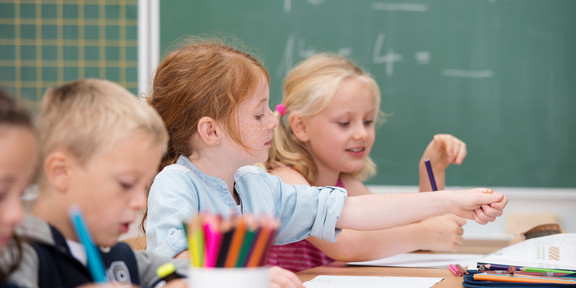 Outstanding theses with practical relevance and school cooperation are the focus of the Ruhr Teacher Training Award. On 9 November 2021, the Professional School of Education at Ruhr-Universität Bochum (RUB) honored the special commitment of two graduates of TU Dortmund University with the award.
Bea Kuhnen received an award for her master's thesis in the humanities on "The effectiveness of word memory as a support for learning performance in elementary school factual teaching - an intervention study using the example of a series of lessons on volcanoes". She cooperated with the Schraber Elementary School in Herdecke, the Harkort School and the Hüllberg School in Witten.
Alissa Werner received the sponsorship award for her master's thesis in the area of STEM subjects on the topic of "Reasoning strategies and size conceptions of third graders when working on context-supported tasks on the size area of lengths." She cooperated with the Liebig Elementary School in Dortmund.
Both graduates will receive prize money of 1,000 euros - donated by the Ruhr/Westphalia employers' associations. The respective cooperating schools also receive funding.
The Förderpreis Lehrerausbildung Ruhr was awarded for the tenth time. The Professional School of Education at RUB is in charge of the competition. Student teachers from RUB, TU Dortmund University and the University of Duisburg-Essen can apply for the award. The aim is to reward examples of innovative teaching practice and thus to honor student teachers who implement scientific approaches in school practice in their first own projects. At the same time, the commitment of cooperating schools in the region is rewarded.