EU DG Employment and DG Grow: New Launch Event
sfs coordinates a large-scale skills partnership for energy-intensive industries
-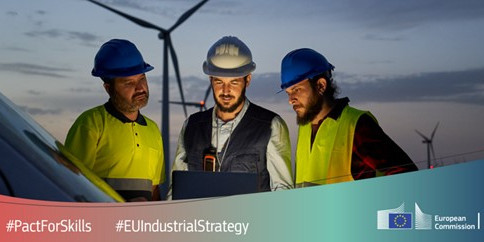 Energy intensive industries are essential to the EU's green and digital transition. They provide steel for wind turbines, aluminium for electric cars, chemicals for semiconductors, among others. The skills required in these industries are rapidly evolving and competitiveness in this sector requires a highly qualified and specialised workforce. Companies need to find workers with the requisite skills to grow. Therefore, it is essential that people's skills are keeping pace with changes, so that they are better equipped to navigate the changing job market.
With the support of the Commission and endorsed by the Commissioner for the Internal Market, Thierry Breton, and the Commissioner for Jobs and Social Rights, Nicolas Schmit - industry partners, research organisations, social partners, and educational and training organisations have set up a large-scale skills partnership for energy-intensive industries (LSP EII). The aim of this partnership is to identify skill needs and develop appropriate curricula and training programmes to ensure that the EII workforce has the right skills for energy-intensive industries to remain leaders in the green and digital transition. It will also promote recruitment and upskilling of workers. EIIs currently make up more than 20% of European manufacturing and employ over 7 million people in Europe.
A common pact for skills for energy intensive industries on the background of the results of the two sectoral Blueprints "European Skills Alliance for Industrial Symbiosis" (SPIRE-SAIS) and "European Steel Skills Alliance" (ESSA) has started. These skill alliances are setting the ground for cross-sectoral cooperation and commitment of stakeholders from energy intensive industries. The vision is to institutionalise ESSA and SPIRE-SAIS under the umbrella of the Pact for Skills by establishing a "large-scale partnership and ecosystem" of Energy Intensive Industries (LSP EII).
The Energy-Intensive Industries ecosystem includes:
Raw materials
Manufacturing of products with high environmental impact: chemicals, iron and steel, forest-based products, plastics, refining, cement, rubber, non-ferrous metals, fertilisers, etc.
All the sectors and members of A.SPIRE and ESTEP are invited to sign the Pact for Skills of the Process Industry. The Pact is open to the involvement of any company from the Process Industry or any organisation belonging to the ecosystem. In order to become member of the Pact for Skills, each organisation needs to fill in the application form available on the Pact for Skills website: https://pact-for-skills.ec.europa.eu/index_en and [wait for feed-back from Ecorys]. Optionally they can become members either of ESTEP (Clean Steel Partnership) or of A.SPIRE (Processes4Planet Partnership).
The Large Scale Partnership is coordinated by Antonius Schröder from TU Dortmund University (antonius.schroedertu-dortmundde). He is a member of the management board and senior researcher at the Sozialforschungsstelle Dortmund (sfs). For many years he has developed and implemented large European projects of the institute, especially in the context of vocational education and training and social innovation.
To the notification of the European Commission
Lists of Large-Scale Partnership coordinators and members
Memorandum of Understanding