Bernd Sommer neuer Professor für Umweltsoziologie mit Schwerpunkt Transformationsforschung
-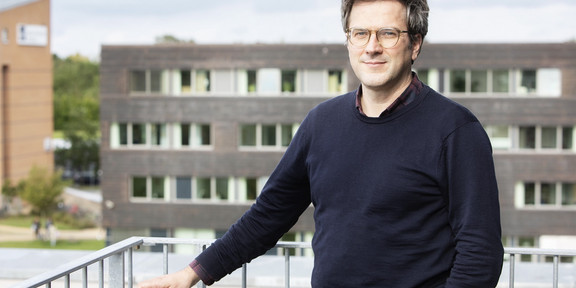 Zum 1. September 2022 hat Bernd Sommer die Professur "Umweltsoziologie mit Schwerpunkt Transformationsforschung" angetreten, die neu an der Technischen Universität Dortmund eingerichtet worden ist. Die Fakultät Sozialwissenschaften erweitert damit ihr Angebot in der Forschung und Lehre.
Bernd Sommer promovierte im Jahr 2010 an der Leibniz Universität Hannover und hat seither in verschiedenen Funktionen zu den Themen Nachhaltigkeit und sozial-ökologische Transformation sowie den gesellschaftlichen Dimensionen des Klimawandels geforscht. Zwischen 2010 und 2012 war er im Forschungsbereich KlimaKultur des Kulturwissenschaftlichen Instituts Essen (KWI) sowie als Referent beim Wissenschaftlichen Beirat der Bundesregierung Globale Umweltveränderungen (WBGU) tätig. Anschließend leitete er am Norbert Elias Center for Transformation Design & Research (NEC) der Europa-Universität Flensburg den Forschungsbereich "Klima, Kultur und Nachhaltigkeit". Dort war er auch an der Konzeption und Leitung des M.A. Transformationsstudien beteiligt. Weiter war er Fellow am Frederick S. Pardee Center for Study of the Longer-Range Future der Boston University sowie am Kolleg Postwachstumsgesellschaften der Universität Jena.
In seinen aktuellen Arbeiten hat er sich mit den Folgen eines erstarkenden Rechtspopulismus für eine sozial-ökologische Transformation sowie mit gesellschaftlichen Transformationskonflikten beschäftigt. Zu seinem Stellenantritt erklärte Bernd Sommer: "Angesichts der Klima- und Energiekrise ist die Transformation von Wirtschaft und Gesellschaft in Richtung Nachhaltigkeit heute in aller Munde. Die TU Dortmund hat eine Professur eingerichtet, die sich mit exakt diesen Themen beschäftigt. Ich freue mich darauf, eine soziologische Perspektive in die entsprechenden Debatten miteinbringen zu können."